Noise Reduction (EMC Reduction)Parts
Ground reinforcement
Ground reinforcement
Metal mesh employed EMC grounding material
Feature
Excellent flexible structure comprises metal wires braided into a cylinder mesh, coated with insulator.
Large surface area of conductive mesh provides excellent impedance characteristics in the high frequency range.
Specification
List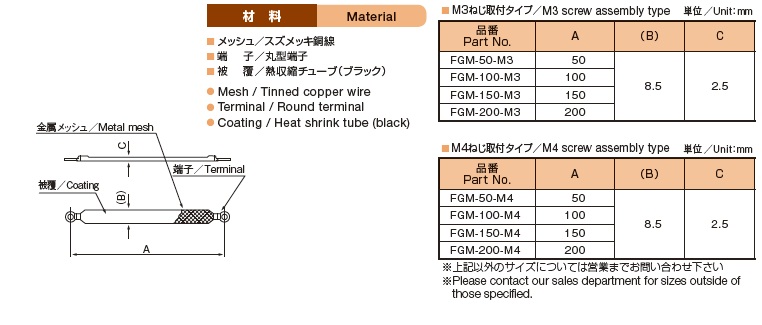 Part No. list
Part No.
FGM-50-M3
FGM-100-M3
FGM-150-M3
FGM-200-M3
FGM-50-M4
FGM-100-M4
FGM-150-M4
FGM-200-M4
Product Inquiry
Please send us your inquiry from the query system regarding product and technical matter about it.
EMC Design based on well-trained measurement skill and suggestion of selection guide of effective grounding parts are available.