About Web Members
Sample Request Procedure
Only members can request product samples. The sample request procedure is shown below.
Product Sample Request Procedure
1.Select the part number you want on the Product Description page.
A Part Number List is shown on each Product Description page. From there you can request samples for each product part number. Please click the Sample Request button. The part number will be added to the Sample Request Box.
You can request multiple product part numbers at once.
If it says "Please ask" in the Sample Request column of the list, we are unable to supply the requested part number.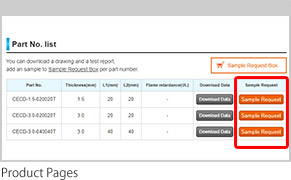 2.Check the Sample Request Box.
When you have finished adding the part numbers you want, check the Sample Request Box. Click the Sample Request Box button at the top of the Part Number List. You will be sent to the Sample Request Box page. You can also use the Sample Request Box button in the menu at the top of the page.
Check the requested part numbers shown on the page and if the contents are correct, then click the Sample Request Procedure button. You can change the number of each product sample requested on this page.
(There is a maximum number of samples that can be requested depending on the product.)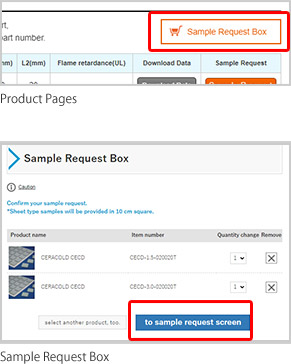 3.Login
If you are already a member, please follow the instructions on the screen and login in the usual way.
If you are not a member, please click on the New Member Registration button and register.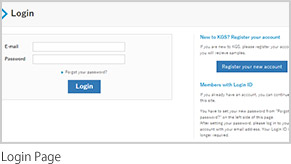 4.Designate a Delivery Address
After designating a delivery address, please click the Proceed to Confirmation Screen button. You can also designate a delivery address other than the one you registered when you became a member.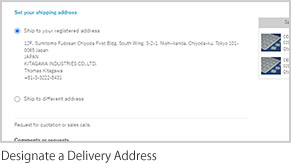 5.Check the Contents and Send to Complete the Request
After confirming the contents of the request on the confirmation screen, if everything is correct, please click the Send Sample Request button.
This completes the sample request procedure. Please wait to be contacted by the person in charge of the company.
An email showing the content received will be sent automatically to your registered email address. Please contact us if the email does not reach you for any reason.
Kitagawa Industries Co., Ltd. (Promotion Department)
101-0065
3-2-1 Nishi-Kanda, Chiyoda-ku, Tokyo
Tel: 03-3222-8432
Fax: 03-3222-7539