Thermal design product
Heat transfer pad
Heat transfer pad
5W/m・K silicone thermal pad (ASKER C 32) for high operating temperature applications
Feature
Super compliable (ASKER C 32) material minimizes thermal resistance.
Silicone-free, no siloxane outgassing.
Oil bleeding is reduced compared to silicone-based thermal materials.
Non-Silicon
High flexibility
Single-sided no adhesive
Available for UL
Specification
List
Material
Non-Silicon
Feature
High flexibility, Single-sided no adhesive, Available for UL
Color
Light green
Specific gravity
-
Volume resistivity

(Ω・cm)

1.0×10[[sup:11]]
Adhesive strenght

(N / 25mm)

-
Hardness

(ASKER C)

32
Hardness

(Shore A)

-
Phase change temperature

(°C)

-
Thermal conductivity

(W / m・K)

5.0
Permeability

(μ')

-
Standard length

(mm)

210×510
Product Dimensions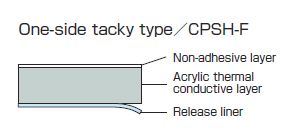 Product Inquiry
Please send us your inquiry from the query system regarding product and technical matter about it.
Suggestion of selection guide of expected Thermal Interface Product is also available.
If you are a website member, you can easily ask inquiry after Login.