Product
Noise Reduction (EMC Reduction)Parts
EMC centers Introduction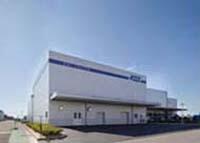 To support the era of high frequency technology ONE STOP SHOPPING - We have extended services from EMC consulting to assistance for being conformed to various standards or regulations such as European CE Marking.
We have two locations of testing laboratories, one in Kasugai, Aichi to respond our customers' requirements.
About an application form for these laboratories, please click "Contact" on the top page of our product site.
Service Guide (Kasugai) in Japanese can be downloaded from here.
Testing and Consulting
1.Measurements for standards (VCCI, EN, AS/NZS)
Registered laboratory of VCCI. The laboratory is accredited in accordance with the recognized International Standard ISO/IEC 17025 by VLAC.
NARTE (The National Association of Radio & Telecommunications Engineers, Inc.) certified engineers and technicians assist your EMC design and control.
2. Conducted immunity test / Audible noise test (CISPR24, EN55024, etc.)
Audible noise instruments for conducted immunity test can be performed in connection with IT equipment as well as telecommuication terminal equipment.
3. Radiated immunity test up to 3GHz
The immunity test covers the frequency band for the next generation mobile phones and bluetooth/wireless devices.
4. Near-field electromagnetic field measurement
We have the ESV-3000 that is capable of measuring near-field electromagnetic field intensity at 0.5 mm interval and shows the result as visual data. It is suitable for early-stage study in prototyping, along with EMC anechoic chamber.
5. Measurement of effectiveness of shielding materials
Both Centers can evaluate effectiveness of shielding based on MIL-STD-285.
This is optimal for characteristic evaluation, including shield materials and cabinet metals.
6. Consulting services
We provide consulting and countermeasures design support services to assist you to acquire CE marking and other international standards.
7. Total solution service
In addition to EMC, we provides total solution service of electronics, including vibration/shock resistance and heat resistance.
Major Equipment
EMC Center
Registered laboratory of VCCI
Anechoic chamber (3 meter mehthod)
(150kHz - 18GHz)
Shield room
Measurement site
Shield room: 4×7×h 3m、100dB+
Measurement room: 3×7×3m、80dB+
Power source (Same for all rooms)
DC:0 - 60V (40A), - 120V (22A)
AC:1V - 135V (50/60Hz,22A,single phase)
AC:135V - 270V (50/60Hz,11A,single phase)
AC:200V, 230V(60Hz,20A,single phase/3-phase)
Emission measurement
EMI receiver 9kHz - 3GHz
Spectrum analyzer 9kHz - 22GHz
Preamplifier 10MHz~27GHz
Artificial mains network
Impedance stabilization network for telecommunication port.
Mains harmonic analyzer
Voltage variation/flicker tester
Immunity measurement
Standard signal generator 10MHz - 20GHz
Power amplifier 80MHz - 1GHz: 100W, 1GHz - 4GHz: 50W
Fast transient/burst tester
Electrostatic tester
Power sensor/meter
Lightning surge tester
Field intensity meter
Power frequency magnetic field
immunity tester
Others
Absorbing clamp / Platform
Antennas
(dipole, monopole, monopole, biconical, log periodic, bilog, horn)
Offices for customers (2)
Price
Please use "Contact" on the top page of our Product site.
We prepare special offers, including yearly contract.