Noise Reduction (EMC Reduction)Parts
Electromagnetic wave absorption (noise suppression) sheet
Electromagnetic wave absorption (noise suppression) sheet
Electromagnetic noise suppression sheet with thermal conductivity, phase-change type
Feature
Electromagnetic noise suppression sheet with thermal conductivity, phase-change type

・ Liquefied into high viscosity at 50℃ to secure close contact with heating elements.
・ GEL solidifies at room temperature providing easy handling.
Specification
List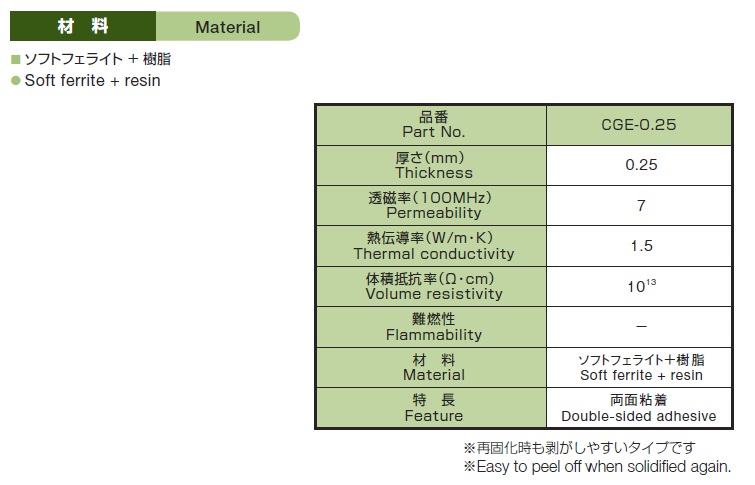 Part No. list
You can download a drawing and a test report,
add an sample to Sample Request Box per part number.
| Part No. | 厚み(mm) | 難燃性 | List of Materials | Sample Request |
| --- | --- | --- | --- | --- |
| CGE-0.25 | - | - | Please ask | |
Product Inquiry
Please send us your inquiry from the query system regarding product and technical matter about it.
EMC Design based on well-trained measurement skill and suggestion of selection guide of effective electro magnetic wave absorption (noise suppression) sheet is available.
If you are a website member, you can easily ask inquiry after Login.