Noise Reduction (EMC Reduction)Parts
Electromagnetic wave absorption (noise suppression) sheet
Electromagnetic wave absorption (noise suppression) sheet
SMARTPLY FFSW
Suppression for metal interference
Thinner and flexible ferrite sheet for wireless charging
Feature
It is higher permeability magnetic sheet which is suitable for magnetic shield and improving performance of wireless charging system according to international standard around 100kHz such as Qi standard.
Sintered ferrite material with flexibility enables higher drop impact resistance.
Suitable for thinner design of module. (Total thickness of product: 0.21mm)
Custom profile is available upon request.
Specification
List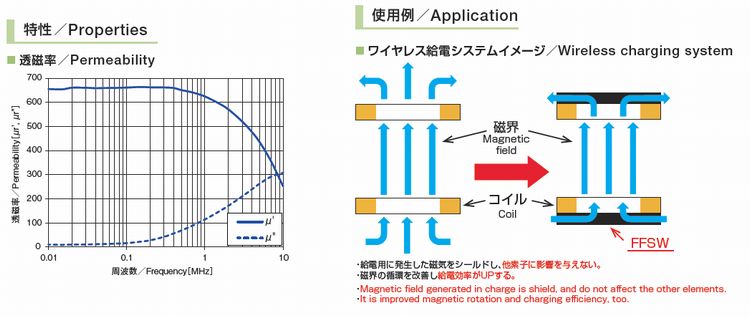 Part No. list
You can download a drawing and a test report,
add an sample to Sample Request Box per part number.
| Part No. | Thickness(mm) | Flame retardance | Download Data | Sample Request |
| --- | --- | --- | --- | --- |
| FFSW-0.1-5060T | - | - | | |
Product Inquiry
Please send us your inquiry from the query system regarding product and technical matter about it.
EMC Design based on well-trained measurement skill and suggestion of selection guide of effective electro magnetic wave absorption (noise suppression) sheet is available.
If you are a website member, you can easily ask inquiry after Login.